World War One (1918)
Edit
- With the Economic and military collapse the Deutsches Reich signed peace with the allied powers. under the treaty the current emperoer Wilhelm II abdicated the thrown. the period immediatly following the first world war proved very harmful to the German economy and national identity. the nation collapsed economically in the 1920s and several groups struggled to seize power. The power struggle was primarily between the Monarchist (DRAP), National Socialist (NSDAP) and the Communists (DVAP).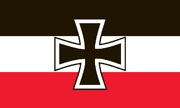 World War Two: The dark years
Edit
with the end of allied occupation in early 1951 and the unification of the two german states, Deutsches Demokratischen Republic and the Bundes Republik Deutschland. Germany followed a(n) path of economic revival.
The Ostwind Crisis
Edit
Mitteleuropa
Edit
A German Europe
Edit
Ad blocker interference detected!
Wikia is a free-to-use site that makes money from advertising. We have a modified experience for viewers using ad blockers

Wikia is not accessible if you've made further modifications. Remove the custom ad blocker rule(s) and the page will load as expected.